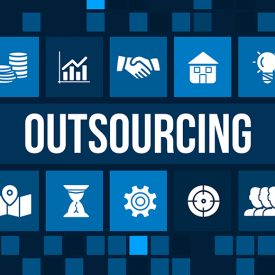 Here are several reasons Start-Ups may want to consider outsourced sales and marketing:
You Don't Have Time to Wait to Go-To-Market
As an entrepreneur launching a new business will require you to spread your time addressing multiple responsibilities including managing finances, human resources, account development, product development and sales and marketing.  Hiring an outsourced sales and marketing company will help you to immediately maximize your sales and marketing operations.  You will immediately have an executive peer that can make your vision for sales and marketing a reality.  And this sales and marketing executive will also help you to avoid the pitfalls that have encountered to help you succeed faster.  And you outsourced sales and marketing executive will already have a full team in place behind them to put soldiers on the ground quickly all armed with the tools and technology they need for immediate success.  Most start-ups simply don't have the runway and bandwidth they need to gain revenue traction fast enough to please their investors.  An outsourced sales and marketing team can move from strategy to execution 4 times as faster than building on your own so you start selling faster.
Lack of Funds for Multiple Full-Time Hires
Finding the best individual marketers and sales people is hard and getting harder. And the reality is that the top talent in this business environment have their choice of where to work, and in many cases do not have the unique skill sets working in a start-up environment requires. To compound the complexities for start-ups, successful sales and marketing efforts now requires multiple skill sets to help the buyer the way they now buy.  Success now requires having a database marketer, a content marketer, a marketing automation expert,  someone to help with content production, a sales and marketing strategists,  business development reps and a closer.   Hiring even a handful of these professional full time would cost you a minimum of $250K annually and there would be no guarantee that they would work well together as a team. And odds are that you would not need most of these hires on a full-time basis.
An outsourced sales and marketing company can bring a blended team to your company overnight at a fraction of the cost.  You will immediately gain access to all the talent you need at a fraction of the cost.  And one of the things that we believe makes Gabriel Sales unique is that when we craft our outsourced sales and marketing solutions we remain open to transitioning some or all of this team over to your team as revenue grows and your sales maturity increases.
Lack of Core Sales and Marketing Domain Expertise
Most start-ups are founded and driven by incredibly competent and passionate professionals and leaders.  But our experience has been, even when being founded by core sale executives,  the founders of most companies have not been in the trenches of the daily grind of sales and marketing on daily basis for many years. So, especially with the advent of marketing automation, most Start Up companies simply can't afford the learning curve of building a sales infrastructure and process that will produce day after day consistently. In addition, hiring a sales and marketing team, without having the recent experience of managing these employees (often part time) can be time-consuming. An outsourced sales and marketing company with a blended part-time and a full-time team will help you move faster with less of your executive's team bandwidth. As a result, your executive team can spend their time on higher value activities.
Every entrepreneur should examine their own situation and decide whether or not it makes sense to outsource sales and marketing in some capacity. If you have the funds, time, and expertise, you should hire full-time employees. You should consider a consultant to help you grow your business if you are lacking in any of these key areas. Please contact us if you would like to talk and determine whether outsourced sales and marketing are right for your organization.