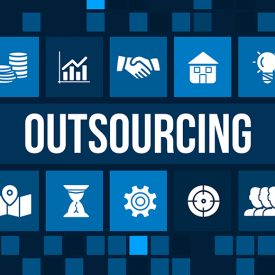 B2B sales is always going to be about building relationships and creating trust.  This has dramatically increased over the past three to four years. Social media, marketing automation, content marketing and other modern technology platforms have enabled a new and more efficient way of selling, while at the same time, making the process more complex for inside sales.
This new landscape of online education requires synergy between sales and marketing teams, and a steady flow of digital content and data analysis to track and measure your efforts. For some companies, making this transition can be difficult to implement and involves a steep learning curve. Many companies find an advantage in leveraging B2B outsourced sales and marketing companies to help them adapt to this new way of selling faster and more efficiently.
Here are three outsourced sales and marketing services that can help:
Amplify Your Use of Content in the Sales Process
Most B2B companies know that creating quality marketing content is essential in the sales process. Unfortunately, some companies struggle with creating content that is both relevant to the buyer, and contributes to moving prospects through the sales cycle.
An outsourced sales and organization has the experience to know what content works and what doesn't. An outsourced marketing and sales company also knows how to create and deliver content that speaks directly to your buyers' needs or pains. In the beginning, your content should prove to your buyer you understand their needs.  Later stage content should then let your prospects decide whether or not they have any interest in how your solution helps them meet their needs. A sales outsourcing organization can help you create a content strategy aligned around this goal. This replicates the same process that an inside sales executes with a well-planned sales process.
Outsourced Sales and Marketing Can Help Get Technologies Productive Faster 
Until about a decade ago, it was very difficult for marketers to measure their direct contribution to P&L. Today, technologies like customer relationship management (CRM) programs and marketing automation platforms make it easy track leads through every part of the buyer lifecycle, helping to measure marketing and sales efforts. This includes the buyer's engagement with content and the buyer's engagement directly with sales reps.
For companies that have yet to implement these types of technologies, the learning curve can be rather high. It can often take a year or more for B2B companies to see the results immediately because:
The sales cycle will not change immediately (it will shorten over time)
Using content requires a new systematic strategy
A sales outsourcing company that offers sales technology implementation and support services can help streamline the implementation process. And more importantly, they can integrate these technologies into a proven sales process faster.
Keep up with increasing demands for marketing content
Marketers today are increasingly expected to act like publishers; creating quality content for sales people to pass along to prospects. While content demands for the B2B universe may be slightly less than for B2C, they can still be quite overwhelming for the average B2B company with limited resources.
Outsourcing your B2B content creation can help you keep up with the increasing content demands your buyers place on your inside sales reps.  It is easy for companies without a full-time content creation staff to get sidetracked on other initiatives. By leveraging an outsourced sales and marketing company, companies can continue to create quality content their readers  will find relevant and valuable.
Conclusion
An outsourced sales and marketing company, with the right technology and content production expertise can help companies shift to the new buyer centric sales landscape faster and with less costs contact us today to schedule a meeting with one of our outsourcing specialists.